40th Anniversary Celebrations in Coláiste Muire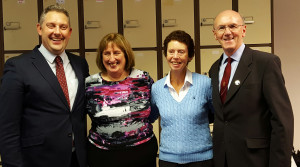 The entire Coláiste Muire school community gathered in the Cathedral in Cobh on Friday 18th November to commemorate the establishment of Coláiste Muire 40 years earlier on Presentation Day 1976. In attendance were many members of the Presentation Brothers and Mercy Sisters along with a great number of current and former staff members. In a beautiful and at times moving ceremony, the occasion was marked with prayers, and a wonderful display of singing and musicianship.
Principal, Mr Fergus O'Brien, spoke of the wonderful 'togetherness' that had evolved over the 4o years and acknowledged the vision of both congregations in amalgamating two proud educational traditions. Our picture shows all four Principals of Coláiste Muire over the last four decades: Mr Fergus O'Brien, Ms Paula Sweeney, Sr Anne Linehan and Brother Bede Minehane.