PRES SPIRIT – THE DIFFERENCE
A staff seminar entitled 'Pres Spirit – The Difference' is being held in each PBST school.
It is now five years since PBST was established and the purpose of the seminars is to explore, recognise and affirm teachers and members of the school community of their implementation of the Charter of Presentation Brothers Schools Trust.
The facilitator for the seminars is Luke Monahan, who worked with PBST and the school staffs on producing the Charter.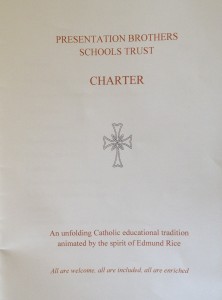 The following are the dates of the seminars:
Wednesday 17th September – Presentation College Bray
Monday 22nd September – Bunscoil Chríost Rí
Monday 29th September – Presentation College, Mardyke
Tuesday 30th September – Coláiste Muire, Cobh
Tuesday 14th October – Coláiste Chríost Rí
Monday 3rd November – Coláiste an Spioraid Naomh
Wednesday 12th November – St. Joseph's, Mardyke
TBD January – Scoil Mhuire na nGrás, Greenmount.