Greenmount Pupils Perform for the President!
On October 13th, 3 current pupils and 5 past pupils from Greenmount National School played in the National Concert Hall as part of the Barrack Street Youth Band, conducted by Shauna McCullough.
The concert was a Music Generation Showcase Concert and President Higgins was the guest of honour. The Barrack Street Youth Band had the honour of playing the Presidential Salute to formally welcome the president to the venue. This was a huge honour for Greenmount School to have its pupils take part in this event. Music is a huge part of the school and they have a long and close link with the Barrack Street Band.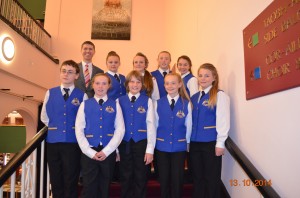 Back row left to right:  Principal Finbarr Hurley, Shuana Brozio, Rebecca Cotter, Sophie Thornton and Amy O'Callaghan
Front Row left to right:  Alan McDonald, Leigh Anne Singleton, Andrew Cotter, Caitlín Crowe and Katelyn O'Leary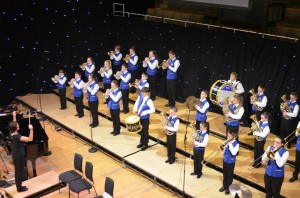 The full band on stage in the National Concert Hall
with Director Shauna McCullough.